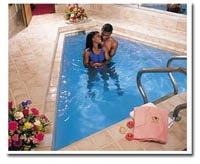 The Pocono Mountains
is a perfect place to plan a vacation no matter what the season. The Pocono Mountains in northeast Pennsylvania have been a favorite destination for honeymooners for generations. Find out where to stay in the Poconos here. Founded in 1958, Caesars Pocono Resorts, which now dominate the Poconos lodging scene, were visited by nearly 16,000 honeymoon couples in 2006. In the Poconos it is a lot of hotels on any choice.
Nothing in the Poconos even comes close to the erotically luxurious suites, entertainment, and exciting recreational facilities available at the four resorts known as Caesars Pocono Resorts. The Poconos is a very popular honeymoon destination and especially Caesars there.
Poconos hotels:
Brookdale Resort - Scotrun, PA. A family & couples Poconos resort. Brookdale is one of four Caesar's properties in the Poconos Mountains area of northeast Pennsylvania. 350 acres in the Pocono Mountains with a warm ambiance. Private rooms and villas. Nightclub. A four-season family resort in the Caesars tradition. This property's perfect if you're looking for a stress free weekend for two or a family reunion. Lodging types: family resorts, golf resorts, historical resorts, inns and B & B's, romantic resorts, ski resorts. Activities: biking, canoeing and paddling, downhill skiing, golfing, hiking, horseback riding, tennis. Brookdale has Kidability with an endless array of popular kids' activities, kids' menus, social directed family activities, and family entertainment. Brookdale's suites also offer all the amenities that families love, such as TVs, VCRs, fireplaces, personal refrigerators, and many more features. Reservations - 800-805-3559 Caesars Paradise Stream - Mount Pocono, PA. Couples Only Poconos Resort . It's located in the heart of the Poconos. Every conceivable option for intimate adventure/romance. Intimate rooms & pampering service. Candlelight dinners & cozy breakfasts in bed. Experience Caesars Pocono Resorts, the premiere destination for romantic, couples-only luxury lodging in the Poconos. Champagne glass whirlpool baths! Call - 800-805-3559
Split Rock Resort - One Lake Drive Lake Harmony, Pennsylvania 18624 Split Rock Resort is a four season resort located on beautiful Lake Harmony in the western of the Pocono Mountains regions.
Meadow Brook Inn - Cherry Lane Rd., Tannersville, PA. Enjoy dining for every appetite in a relaxed setting and choose from an award winning international cuisine while having a quiet drink by the fireplace in the newly renovated Derby Pub.
Comfort Inn & Suites Mount Pocono - 800 Route 940 I611 & I380, Mount Pocono, Pennsylvania 18344 This hotel is a brand new hotel and is a favorite with most guests that have reviewed the property. Its central location in Mount Pocono puts it near the major Poconos ski areas and the Crossings Outlet Shopping Mall.
Caesars Cove Haven - Lakeville, PA, On Lake Wallenpaupack. Cove Haven is the largest of the four Caesars Pocono Resorts. Welcome to the resort at Mountain Springs Lake, where natural beauty surrounds you. Ceasars Pocono Resorts, in the magnificent Pocono Mountains of northeast Pennsylvania, are the world's most romantic resorts offering you all-inclusive honeymoons. The world's most famous honeymoon resort. Heart -shaped whirlpools & Champagne Glass Whirlpools. Call for Reservations - 800-805-3111
Skytop Lodge - Situated on more than 400 acres in the Pocono Mountains of Pennsylvania, not far from Lake Wallenpaupack or the Delaware River is this former senator's country estate that is now a unique vacation resort where the pure country air is invigorating and revitalizing. Reservations - 1-800-805-3559
Super 9 Motel Stroudsburg - 340 Greentree Drive, East Stroudsburg, Pennsylvania 18301 57 rooms on three floors. Located in East Stroudsburg, just off I-80 - Gateway to Pocono Mountains. Shawnee ski area nearby.
Budget Pocono Motel - Interstate 80 Exit 56, East Stroudsburg, Pennsylvania 18623